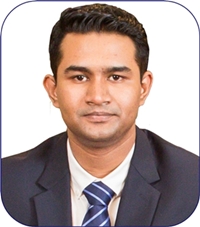 Md. Mostafizur Rahman
Md. Mostafizur Rahman was born in a reputed Muslim family in Bangladesh. His father was an army. So he passed all his childhood and boyhood in different cantonments. His family background helps him to be discipline, punctual and responsible.
He completed my SSC from Jalalabad Cantonment Public School & College, Sylhet and HSC from Savar Cantonment Public School & College. Later He completed his BBA major in Finance from East West University.
After the graduation he completed his internship from Trust Bank Limited, Savar Cantonment Branch. Then He joined in Grameenphone Limited as an Executive (Contractual) under Finance Division at GP House. It was the most amazing period of his corporate life. Currently he is working as an Senior Executive at Summit Communications Limited.
Summit Communications Limited (2017 –Present)
Senior Executive (2019 – Present)
Executive (2017 – 2019)
Business Control Department
Karwan Bazar, Dhaka
Job Responsibilities:


Review Project estimate.
Obtain financial forecasting data from different departments.
Allocate funds for different projects.
Follow up work order vs. actual work.
Process vendor payment against WO/PO.
Verify TA/DA of different departments.
Prepare HDD machine production report.
Performing account reconciliation on periodic basis.

Grameenphone Limited  (2016 – 2017)
Executive (Contractual)
Finance Division
GP House, Bashundhara R/A, Dhaka
Job Responsibilities:

Verify fund collection through designated banks.
Monitor credit sale and refund.
Prepare report from different tools.
Monitor the Sale Order in LERP.
Monitor ERS distribution in the ERS system.
Approve physical product shipment from warehouse.
Issue money receipts.
Day end reconciliation of collection verses sales.
Next day cash and bank reconciliation.

Trust Bank Limited (2015)
Intern, General Banking Division
Savar Cantonment, Savar, Dhaka
Job Responsibilities:

Account opening
Customer support
Cheque issue
KYC analysis
Data entry
Advanced Excel Training: Two days long training program on Microsoft Excel by EWU Business Club (2015).
Business Plan Writing: Two days long program on business plan writing by IFC. EWU Business Club (2014).
Effective Communication: One day long training on effective communication by IFC, Business Edge and EWUCCC (2013).
Problem Solving: One day long training on problem solving study IFC, Business Edge and EWUCCC (2013).
Capsule Training Camp: Nine days long trading by BNCC Mainamati Regiment (2008)